Digital Menus
14th Jan 2018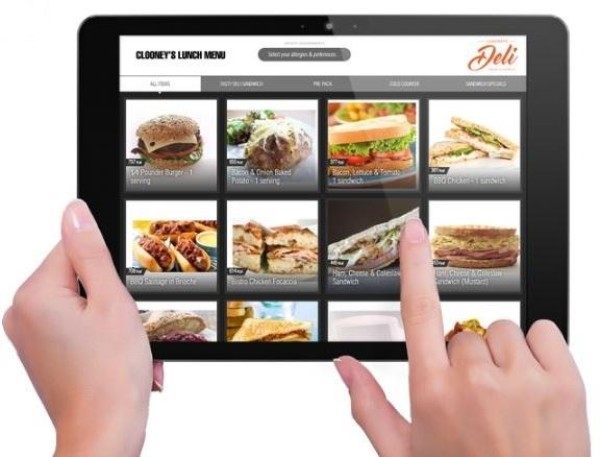 The Nutritics Digital Menu display is intended for use by Food Businesses, providing a front-of-house view where your customers can browse your menu and make better informed meal choices very efficiently without staff involvement. Click
here
to see a sample digital menu now designed for tablets and tvs.
The digital menu is updated in real time as you make changes to your recipes, thus avoiding versioning issues associated with printed menus and allergen lists. They can be displayed on your own on-site tablets or TV's, or they can be accessed on the customers own smartphone by scanning a unique QR code.
1.
In order to create a digital display, you will first need to create a menu by following the steps in our guide on
creating a menu.
Your digital menu display is based on the content of your menus created during this step.

Pro Tip: It is a good idea to add photos to recipes that will be used on your customer facing digital menus. This will ensure there is a strong visual element to your menu
2. Once your menu is created, click the 'digital' button in the toolbar at the top of the page to preview how the digital menu will look.

3. Back in Nutritics, click the wrench icon from the toolbar at the top of the page to manage the display options and settings for the menu. A general disclaimer may also be added here which will be added to all customer facing menus within your Nutritics account.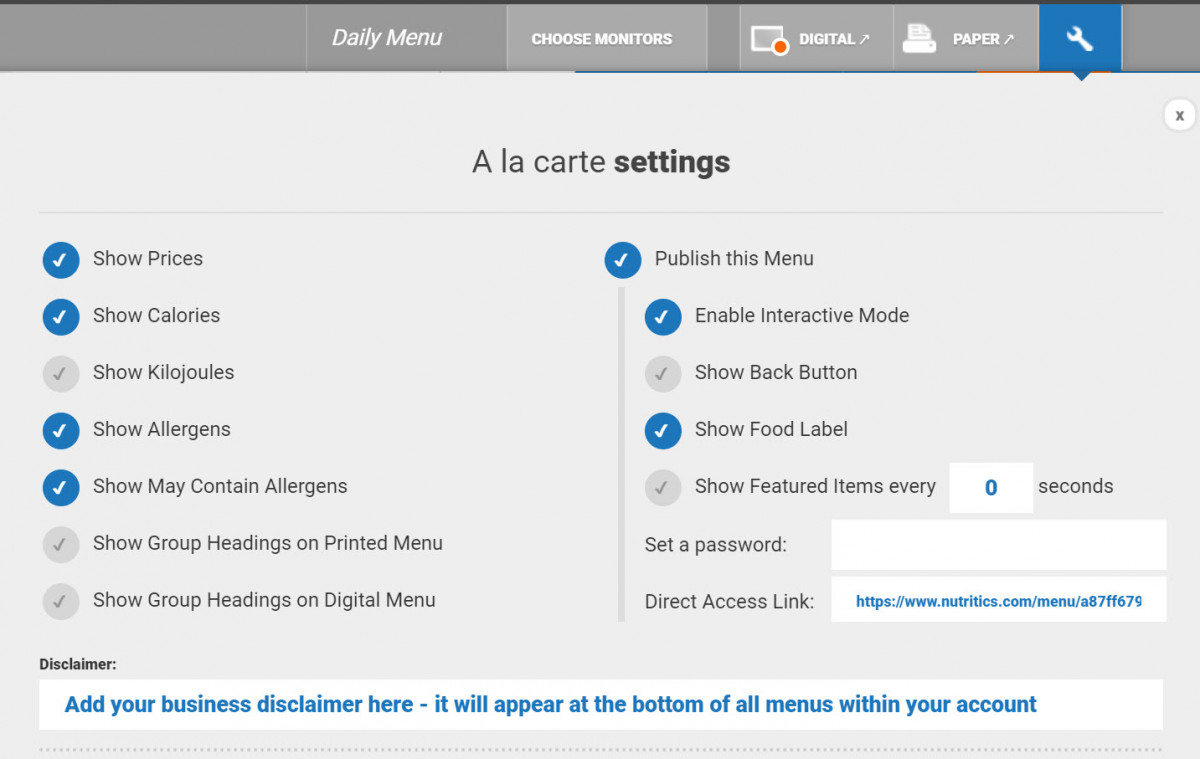 4. Once satisfied, you are now ready to make the menu live. Click 'Publish this menu' to make it live or click the 'Digital' button in the top toolbar again to open your digital menu as the administrator.


5. Here you will see all your currently live published menus and all the inactive menus previously created. Menus can moved from live to inactive by drag and drop. Your customers won't see menus in the 'Other Menus' section.

Pro Tip: Add a background image of your store or kitchen to give your digital menus display a more professional finish – just click the 'Add Background Image' button at the bottom right of the screen.
5.
Each menu has a QR code and unique access URL. You can view all your menus, URL's and QR codes from Start>Digital Menus. Any web based tablet can be directed to the URL to gain access to your menu. The QR code can be printed and added to existing menus or table stands to give customers access to your menus on their own smartphones.

Pro Tip:
Attaching your Google Maps business location to your profile from Menu>Settings>Your Profile will make your live published menus available to public users who use Libro smartphone app. your dishes and menus will be presented as local suggestions that suit their dietary and nutrition requirements.
Currently this feature is on trial and available to users based in Ireland only as part of the Healthy Towns Initiative.