How to Create and Analyse a Recipe
28th Jan 2019
Nutritics recipe creator can be used to combine foods from the database into a new recipe entry. Recipes can be used in diet logs, meal plans or combined with other recipes to make full meals quickly and easily. Nutritics Foodservice edition includes a cost analysis system for recipes, as well as a menu cycle builder and product reformulation engine, which makes ingredient suggestions on how to improve the nutritional profile of a dish. Recipes can also be used for the production of Nutrition Labels, digital menu board displays and allergen reports.
There are a few top tips you should know before getting started:
Split your recipes into sub recipes, one for each 'pot' or cooking method.
Analyse base sauces, sides, and multi-purpose / batch recipes first.
Enter all ingredients as raw, with the exception of deep fried items and grilled fatty meats.
When possible, weigh ingredients in their prepared form (skin, stones, bone waste removed).
Follow the on screen prompts that appear in the lower right corner of the screen as you log.


As you enter ingredients, the nutrition & allergen information will update in real time.


All changes are saved automatically, except the recipe photo, which must be saved after editing.
Recipe Analysis – Step by Step
1. To open the recipe creator, click the 'Start' button, then click 'New 'recipe':

2. Enter a title for your recipe and optional description (useful for recipe source, web link, searchable keywords etc)

3. Search for ingredients using the search box at the top left of the screen , click the insert button to add the food to your recipe: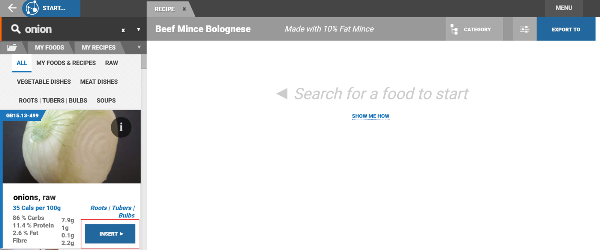 Pro Tip: It is best to enter the ingredients in their prepared 'ready to cook' form.
4. Click the 'Quantity' box to open the portion entry box. Choose one of the portion size options suggested or enter your ingredient weight directly in any unit):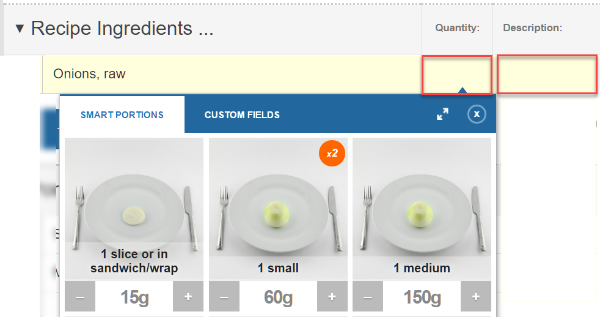 5. Add any custom fields you wish to tag to the ingredient such as country of origin, shelf life or storage instructions from the custom fields setting

6. Apply a cooking method as appropriate in the 'Method' drop down box to account for vitamin and mineral losses on cooking, as well as fat absorption, and salt absorption. This should only be applied if your ingredients are entered as raw (or applied to cooked ingredient where they have a second cooking method or process)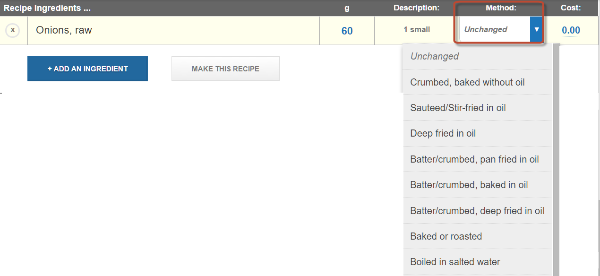 Pro Tip: If your ingredient is fried in oil or boiled in salt, it is important to include the specific oil or salt in your recipes ingredient list and tag it with the same cooking method as the ingredients cooked.
7. Input the ingredient cost to calculate the cost of your recipe batch and servings. Costs are entered manually in the box provided. Once you tag an ingredient with a cost, this amount is recalled each time you use the ingredient automatically.
Pro Tip: Generate a table showing all of your ingredients and costs from Start > Ingredient Costs
8. Repeat steps 3-7 for each ingredient.

9. Scroll up the page to the food labelling section and enter the number of portions this recipe serves, 'per serving' label data will then be generated:




10.

Input any other data on the recipe level in the 'Modifiers' box, such as recipe storage, weight change factors, or profit margin & tax to calculate RRP of recipes and various portions.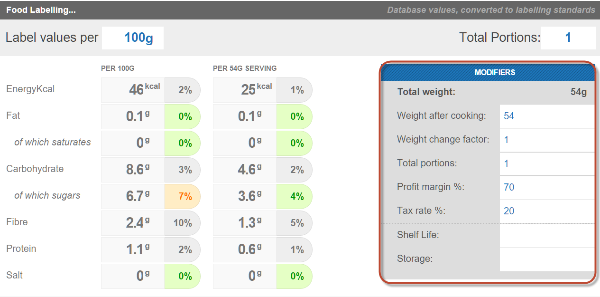 Pro Tip: If you intend to report nutrient values per 100g, or with reference to any unit of weight (e.g.food for label), it is important to account for weight change on cooking by either the weight yield of your recipe, or entering an appropriate weight change/ yield factor in the boxes provided. However, if you are simply reporting nutritional values 'per serving' (e.g calories on menus initiative) it is not necessary to apply a weight change factor, but the weight of the serving must not be referenced.
11. Add up to 5 portion size options in the box provided at the bottom of the screen, or type desired calories in the Kcal box and the portion weight will be calculated. Product barcodes may also be added here for use in the label maker or in API integrations.

12.
Add any cooking instructions and notes for your recipe in the text entry box, or photos to illustrate key steps of the preparation process
13.
Scroll up the page to double check the allergen information indicated is appropriate for your specific ingredients, and change the 'May Contains' indicators to 'Unspecified' or 'Contains' as required (right click an allergen to toggle the context menu)
14. Scroll up to the top of the page and add a photo to your recipe if desired.

15. Use the Export button or Menu > Output tools to publish your recipe to various outputs