COVID-19
Changes
Nutritics has added extra features free of charge to support you working from home during COVID-19 - find out more.
User Manual
Nutritics User Guide
x
< back
menus
Accessing Your Menus
14th Jan 2018
Menu Access:
Intended for display on an on-site kiosk or table side tablet / menu.

Access by entering the URL www.nutritics.com/menu/USERNAME on any device.

Allows staff to select the appropriate menu before handing the tablet to the customer, or you can allow customers to browse all menu types (eg.Early bird, á la carte, specials).
Does not require internet access after initial load (but changes to your recipes won't sync until internet access is recovered).
QR Code:
Intended for display on customers own smartphone devices.

Accessed by customer by scanning a barcode which can be printed / stuck onto your printed menus, or printed as a 'tent' display for the table (or any other location).

Generate your QR code from Start>Digital Menus within Nutritics.

Allows customers to browse your menu even if they are not 'on-site'.
Direct Access:
Intended for display on any device – provides access to one specific menu only.

Most useful for enhancing your website online – simply add the direct access link to your website to provide instant access to an interactive menu.

Copy and paste the access link from the settings within 'My Menus' in Nutritics anywhere.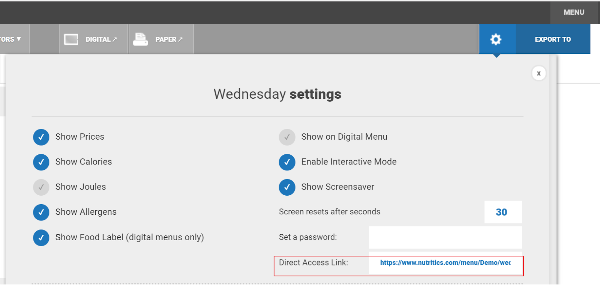 ◄ Previous Article
Digital Menus
Next Article ►
Paper Menus