< back
foods and recipes
Ingredient List Management
23rd Dec 2017
A recipe's
QUID
or ingredient list is generated automatically in Nutritics based on the ingredients in the recipe.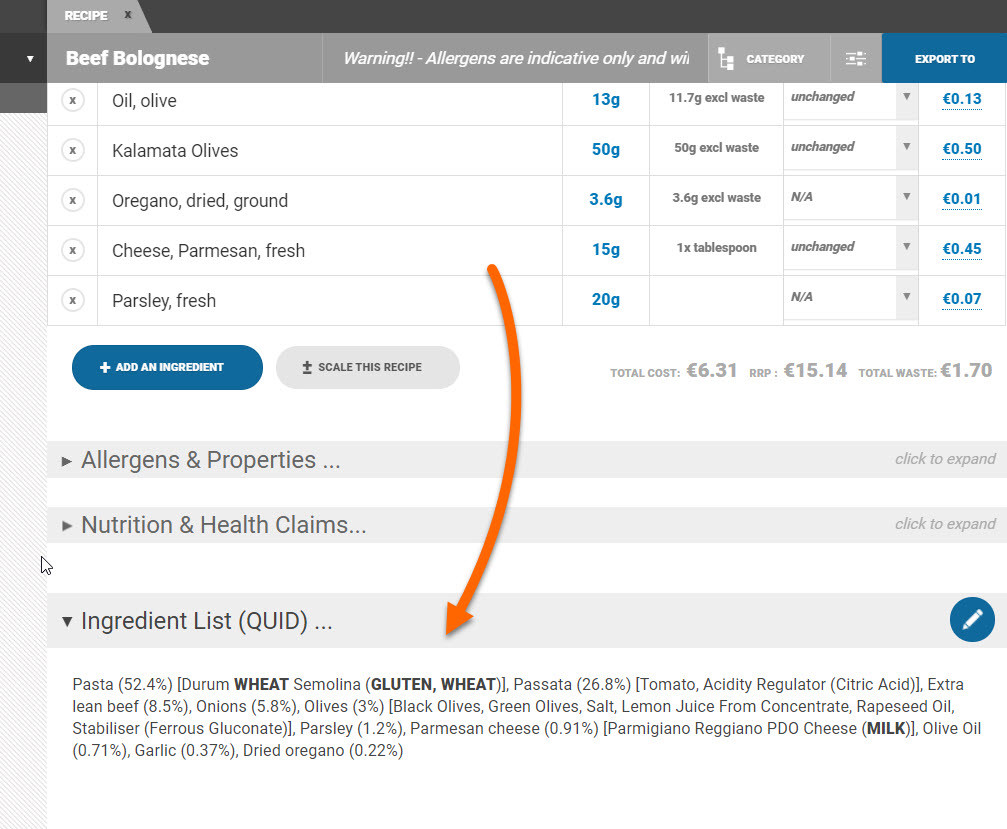 Managing ingredient lists on the food level

Ingredient lists are added on a food level by opening the food and clicking on the pencil icon beside the 'Ingredient List' heading and typing/copying and pasting the ingredient list into the text box.

For a full guide on adding a food to the database (including adding the ingredient list), see
here
.
Managing ingredient lists on the recipe level
You can also easily manage the ingredient list of any food in a recipe in the recipe workspace. Any changes made will update the recipe's ingredient list automatically. To do this:
Click on the ingredient quantity
Select the custom fields tab
Click the button beside 'Ingredient list for this food'



If an ingredient list has already been added to the food, it will be visible here, otherwise copy and paste/type one in
If the food is a single ingredient item e.g. olive oil, click on the tick icon and the food name will populate as the ingredient list (an ingredient list is not required for single ingredient items where the name of the food is identical to the ingredient name or the name of the food clearly identifies the nature of the food)
Enter any 'May contains' advisory statements listed in the products ingredient list e.g 'may contain nuts'
Click scan for allergens - detected allergens will be highlighted
Pro tip: You can change how the allergens are formatted by going to the main menu by clicking on the cog icon in the top right corner of the screen > settings > preferences > scroll to the advanced section and choose your preference from the dropdown beside 'Ingredient list allergen format'.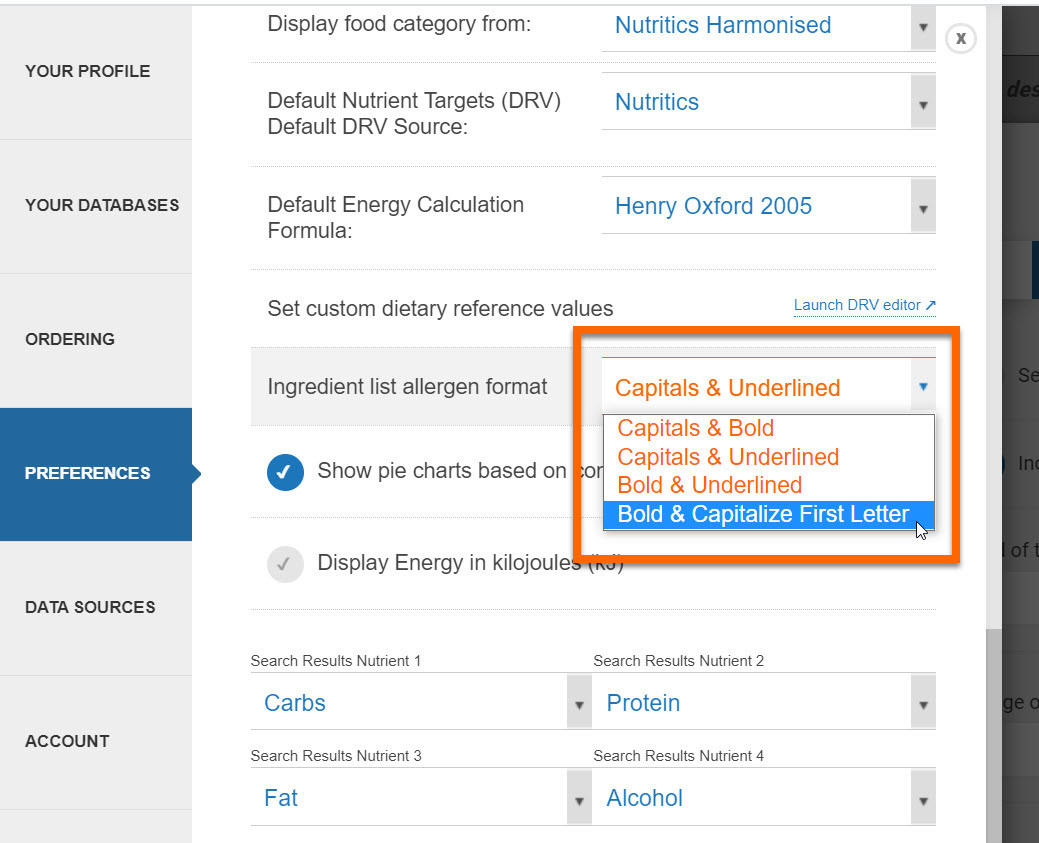 Click update
The ingredient list can be further customised in the custom fields tab e.g. The percentage that appears after the ingredient name in the ingredient list can be removed by ticking 'Hide % in ingr. List'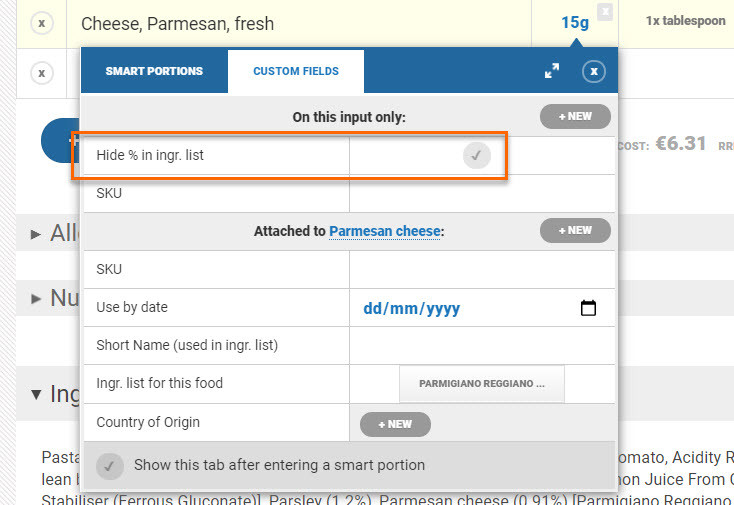 If desired, change how the ingredient name appears in the ingredient list by typing directly into the 'short name' field in the custom fields tab



Scroll down to the QUID heading in the recipe workspace to see changes
Updating an ingredient list on a product label
If labels have been made for the recipe, the ingredient list can be updated on the labels by following the steps below:
Open a recipe label in the label maker
Click on the ingredient list element
Click refresh to reset the ingredient list to the current version in the recipe workspace (note that this will overwrite any manual changes made to the ingredient list in the label maker)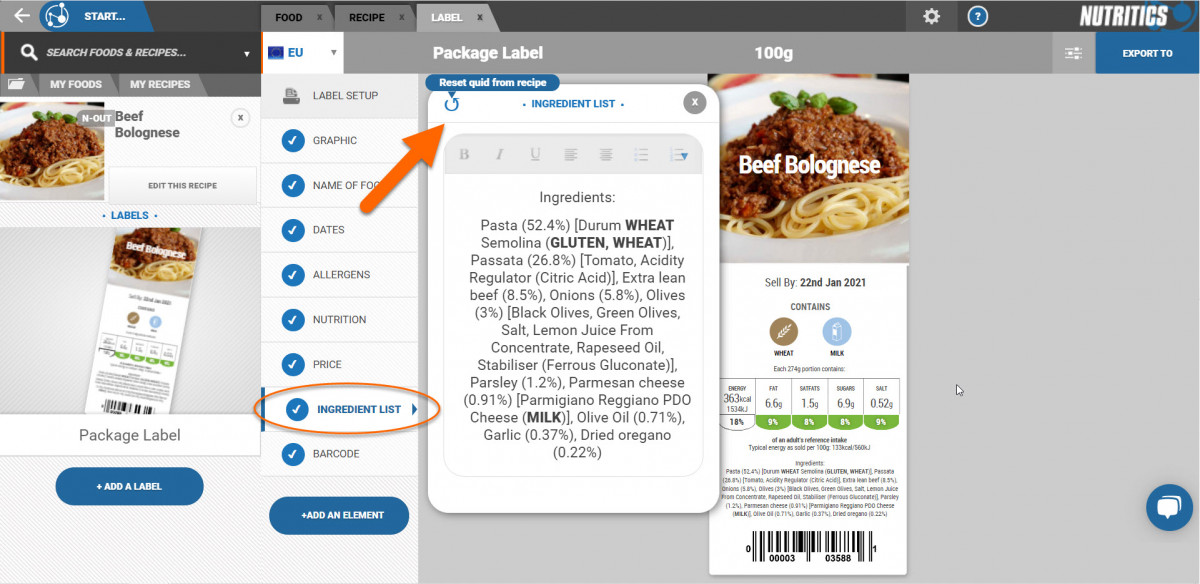 ◄ Previous Article
Waste Calculations
Next Article ►
Shopping Lists