Nutritics has added extra features free of charge to support you working from home during COVID-19 - find out more.
User Manual
Nutritics User Guide
x
< back
food labels
Nutrition and Health Claims
12th Jan 2018
Nutritics will automatically display all applicable nutrition claims that can be made for your recipe under
Regulation (EC) No 1924/2006
. Simply click on the indicators to apply the claim to your printed reports and labels. After a nutrition claim has been elected for use, the associated Health Claims for that nutrient are displayed, which can also be applied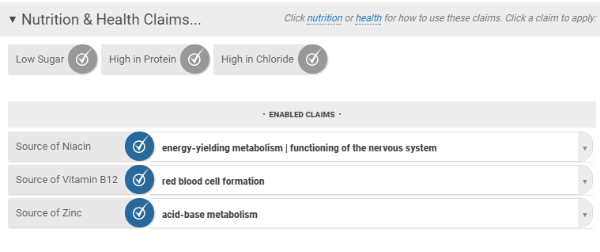 Claims cannot be applied to recipes that are high in saturated fat, trans-fat, total sugars or salt. Claims such as 'Reduced energy', 'Reduced Fat' that require comparison across products are not available and should be consulted separately.
Nutrition & Health Claims are available on our premium and corporate packages only, or added from Menu > Add Features. Check our blog on nutrition claims and health claims for more background information, or refer to Regulation EC1924/2006