< back
getting started
Nutritics Menu and Settings
28th Jan 2019
The Menu button is available in the top right corner of the screen after logging in to Nutritics. The menu provides various support tools and account specific features such as changing your password, updating your personal details, and changing the food databases and languages of the software. Each item in the Menu is described in more detail below.
Settings
Navigating to Menu>Settings will open the settings for Nutritics. The settings menu is made up of various tabs:
Your Profile: Shows your contact information and business details that Nutritics has on file. You can edit these details from this tab. If the option is enabled on your package, you can upload a business logo or banner here to brand the reports.
Preferences: Display preferences, beta program access, settings for various other features (search, allergen preferences, languages, imperial / metric units and activity log settings). You can decide what feature will open upon log in. For example, if you primarily use Nutritics to view and analyse recipes you can choose to open on 'My Recipes':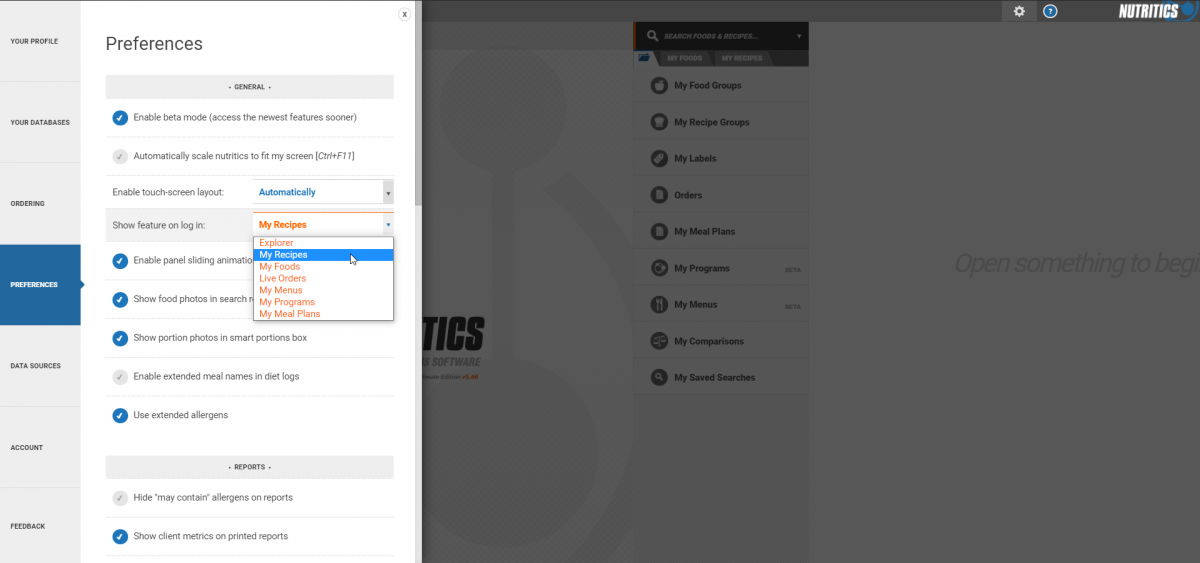 Databases: Show and customize active databases being used in your Nutritics account.
Account: Shows the Nutritics version number, license renewal date and details of last login. You can manage your subscription, customize your package, turn off autorenewal and view past invoices here. You can also change your password, delete all client data and download your client data in .CSV format from this tab. If you wish to change your login username, please contact us directly.
Feedback: Send us your comments, suggestions and food requests.
Ordering: This is only available if you have our food ordering feature enabled on your account. This is where you attach an outlet to set up ordering.
Tutorial Videos
Click this
option from the menu to access our tutorial videos, as well as step by step instructions on how to use each feature within Nutritics. You can also download our pdf user manual from this
link
.
Support & Webinars
This menu item gives you access to support resources and the upcoming training webinar schedule. Support and webinars are included with all plans.
Add Features
This menu item is available if you are paying by debit or credit card. Here you can customise your Nutritics package, add or remove features, add collaborators and adjust account storage to suit your budget.
Manage Users
This menu item is available if you are an assigned administrator of user licenses for your organisation. Here you can view and manage users, set up accounts individually or in batch, adjust licence activation period and send reminders to Nutritics users in your organisation. See the Licence Management section for more information.
◄ Previous Article
Nutritics Login