Keeping food label information up-to-date and accurate has never been more important with most food businesses now having a legal obligation to provide detailed ingredient lists with accurate allergen listings.
The Nutritics LabelMagic system enables real time sharing of verified food label information from production sites to different locations in a read only format. Printing on site is facilitated by a separate tablet and bluetooth connected printer, minimising the risk of incorrect label information being displayed with a completely automated process, controlled at the point of production.
Highlights include
Allows full control over recipes and labels at point of production
Supports compliance with a simple centralised system
Reduces human error with a completely automated process
Real time updates of all recipe and label changes
Flexibility to print any label type required with site specific brand designs
Integrates seamlessly with new and existing hardware
Helps customers to make informed food choices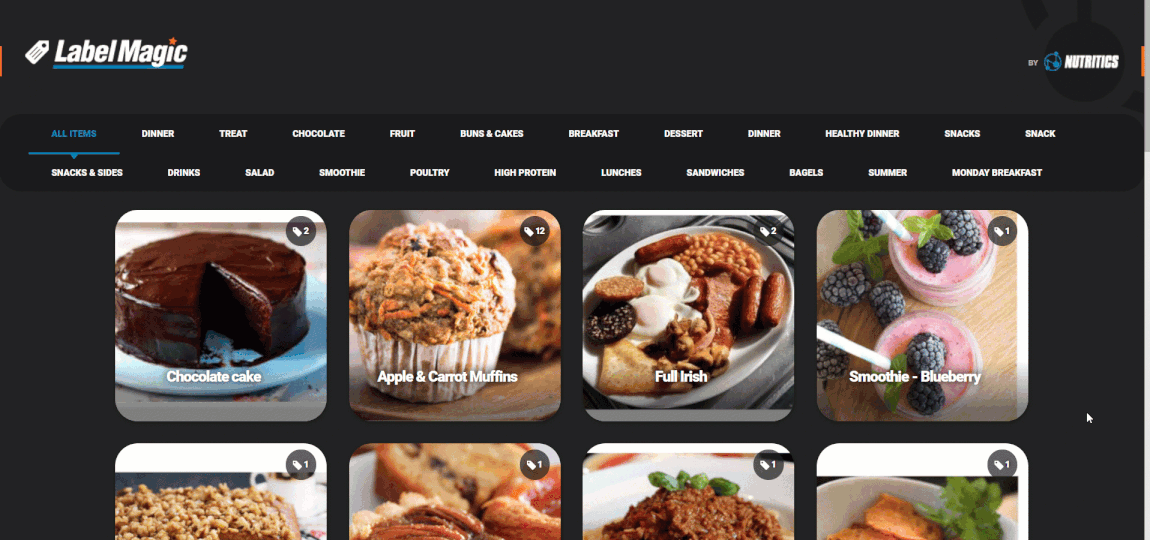 Supports compliance with food law
Control all information displayed on labels e.g. allergens at production level. Restricted access allows staff to select which product label and quantity are sent to the printer.
Streamlined multi-location operations
Deliver an efficient, consistent and seamless labelling process across multiple brand locations.
Automatic updates
Any changes made to products, recipes or labels at production level are automatically applied in real time.
One end-to-end system
Manage your labelling process in one place. Print with our dedicated hardware, or integrate with your existing system.
Simple setup
Easily implement new labelling processes - LabelMagic can be set up and ready to go on the same day.
Improved customer experience
Enable customers to make informed food choices by displaying detailed nutrition and allergen information.
Where can I find more information about LabelMagic?
Click here
for an overview of how to use the integrated food labelling solution in your business.
Interested in trying LabelMagic for free?
Sign up for your free 7-day Nutritics trial (including LabelMagic) or contact us to reactivate a previous account!
Already use Nutritics for labelling?
Click here
to login to LabelMagic now to view and print your labels! This can also be found from Start>LabelMagic within Nutritics