Hey everyone, it's Nicola! An update on my progress since my last blog coming your way...




So far, we have seen just how vital amino acids are to human function. They contribute to the many diverse functions of proteins throughout the body, and, for the most part amino acids can be generated within the body. A select few, however, can't be made in the body and these amino acids have to be obtained from the diet.




As discussed in my other blogs, research into protein metabolism and amino acid function is an important and emerging field with numerous applications. It is essential that we have a reliable source of amino acid data as a reference point, to enable and diversify the many areas of science and research that involve amino acid quantification. This is why we are developing a method to estimate the amino acid content of foods to supplement the McCance & Widdowson's composition of foods integrated database (CoFID).




In the UK, the last amino acid database was published in 1980, as part of the McCance and Widdowson's 4th edition composition of foods dataset (MW4). I investigated why data from MW4 was not republished in subsequent editions, and one of the main reasons was due to the expense associated with amino acid analysis. However, communication with a research group who were looking into the previous data have suggested that recent analysis of vegetable samples have very similar amino acid profiles to MW4 data from 1980. This data was not published.




We have collated the amino acid data from this source and combined with data from USDA 2015 Standard Reference 28 [1], Australian (AUSNUT) 2011-2013 Australian Health Study [2], the 2015 Japanese Standard Tables of Food Composition [3] and German Food Code and Nutrient Data Base 2014 [4] published data sources. We intend to link amino acid data from these data sources to CoFID in a hierarchical process: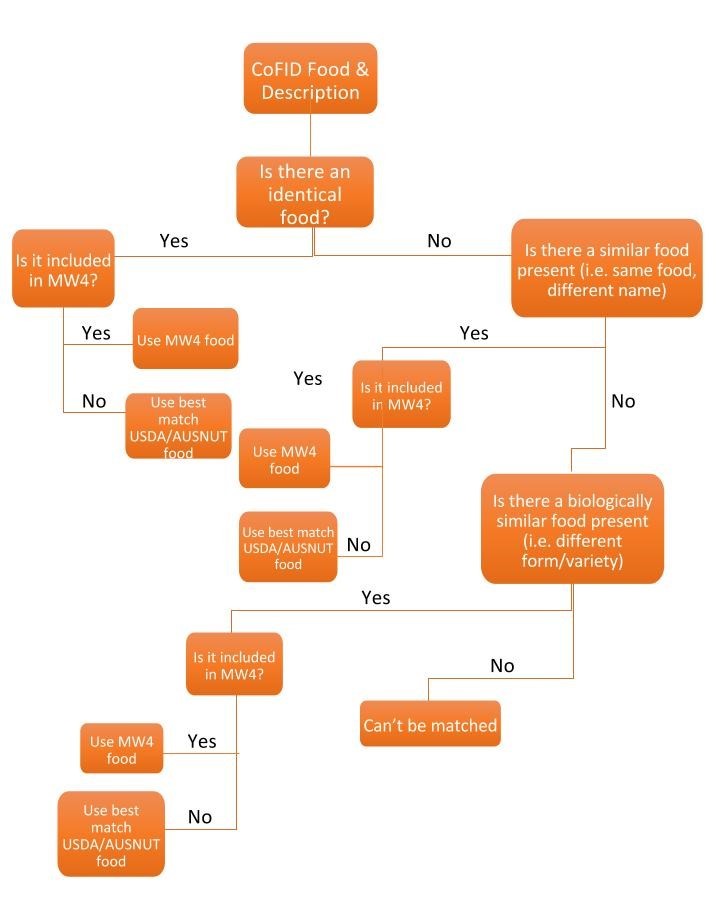 Figure 1 showing the hierarchal process to follow in order to best match foods
In order to complete this process efficiently and accurately, Nutritics have developed a bespoke tool called DB Map to support the implementation of amino acid estimation. DB Map is a semi-automated food matching and nutrient gap filling tool complete with an audit trail system. It enables me to identify similar foods across databases and map data from one data source to another, relative to an elected nutrient. In this case, I will be mapping amino acid data from either MW4, USDA SR28 or AUSNUT database to CoFID foods, relative to total protein. The use of this tool will allow me to link amino acid values to hundreds of foods relatively quickly. Furthermore, as this is an automated data transfer system, data input errors will be minimised.
The mapping project will begin with foods that have been identified as single ingredient foods and progress to the more complex composite dishes.
That's it for this blog. Thanks for reading, and as always, if you have any questions or comments, you can get in touch at info@nutritics.com [ATTN: Nicola].
See you next time!
References
US Department of Agriculture, Agricultural Research Service, Nutrient Data Laboratory. USDA National Nutrient Database for Standard Reference, Release 28 (Slightly revised). Version Current: May 2016. Internet: http://www.ars.usda.gov/ba/bhnrc/ndl
FSANZ. About AUSNUT 2011-13 2017 [Available from: http://www.foodstandards.gov.au/science/monitoringnutrients/ausnut/Pages/about.aspx.
MEXT: STANDARD TABLES OF FOOD COMPOSITION IN JAPAN - 2015 - (Seventh Revised Version) 2017 [Available from: http://www.mext.go.jp/en/policy/science_technology/policy/title01/detail01/1374030.htm.
Vitamine. Nutritional table - what nutrients are in food? : vitamine.com; 2017 [Available from: https://www.vitamine.com/lebensmittel/.