Prepare your business for Natasha's Law with Nutritics fully automated labelling solution - learn more.
Nutritics Blog
Keep up-to-date with cutting edge industry news
Your weekly dose of nutrition research, industry updates & business tools
< back
As part of our commitment to providing our users with the best tools possible, we have added up to 120 sample recipes to Nutritics - free of charge, ready to use complete with cooking instructions for your clients to follow. Meal planning has never been this easy and with all of these dishes being sourced from literature indicating the most popular cuisines followed in the United States, it's never been this delicious. These varying recipes cater for all possible dietary and lifestyle needs such as vegetarianism, veganism, pescetarianism, gluten free needs and more. Allergens are also flagged in the recipes to further highlight our goal of making correct nutritional and allergen information more accessible. Our new sample recipes include:
18 vegan dishes
39 vegetarian dishes
19 gluten free dishes
11 pescetarian dishes
Our aim at Nutritics is to give our software users the best possible platform for recipe management. Creating recipes with Nutritics ensures that nutritional and allergen information meets legal requirements and more, all ingredients are neatly listed, and that there is full clarity to every aspect of creating your dishes. The use of our sample recipes can be a great help for showing new Nutritics users how recipes are calculated correctly and even for experienced users who might be looking for health-conscious dishes to add to meal plans/menus/programs.
Rather than developing or creating your own recipes, you can simply filter by category and insert recipes as you go. This will save you a huge amount of time - time you can now spend with your clients and growing your business.
All of our newly created recipe ideas include:
Photographs
Ingredient lists
Allergens
Sub-recipes where needed
Multiple serving size options
Step-by-step guides
Complete micro and macro nutrient breakdown.
In order to view them all, go to your "Recipe Groups" which should show a locked group called "Recipe Ideas"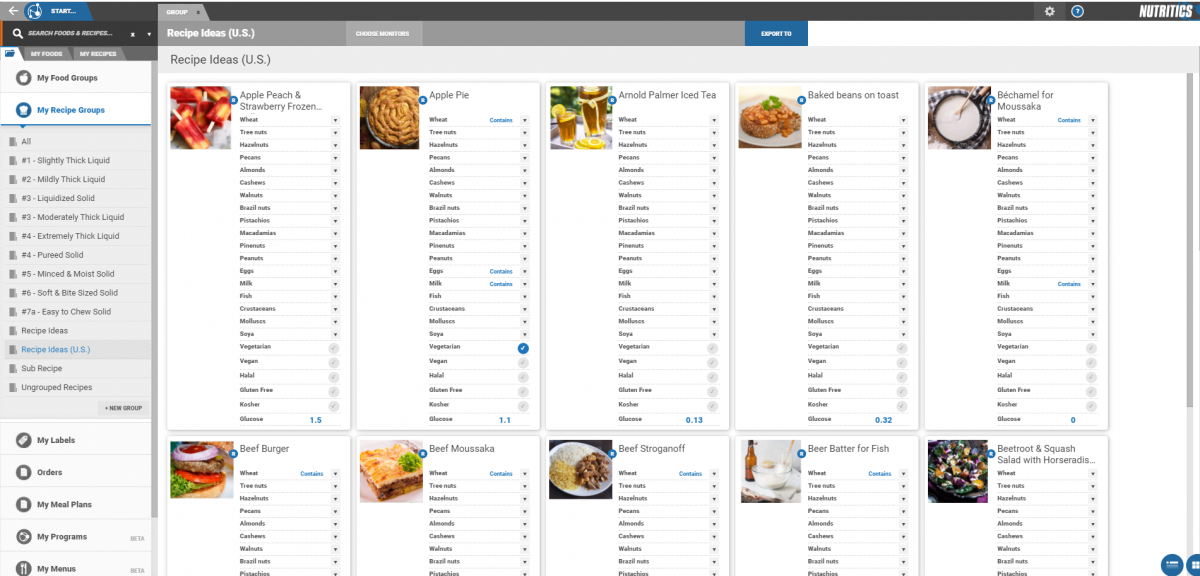 Please note that these recipe ideas are only automatically enabled for users in the United States as the foods sourced for these recipes are taken from the United States Department of Agriculture (USDA) databases. If you like to learn more about the options for your region, please get in touch with support@nutritics.com.