Nutritics has added extra features free of charge to support you working from home during COVID-19 - find out more.
Nutritics Blog
Keep up-to-date with cutting edge industry news
Your weekly dose of nutrition research, industry updates & business tools
< back
We have just launched Nutritics 4.3!
With this update, our ethos was to make your life easier by making Nutritics smarter. We've built several new tools to help food industry deal with the onslaught of complex legislation surrounding food production and labelling. We've also upgraded the Nutritics engine to seamlessly accept quantities in any metric or imperial unit and added lots of little tweaks to make foods easier to find and the software easier to use.
There are lots of new powerful features and tools to go through so lets get started!
New Advanced Search Tool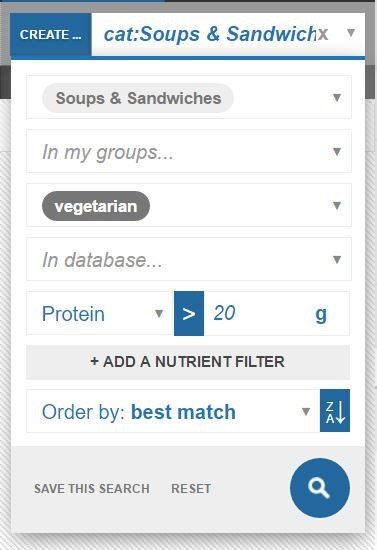 Nutritics Advanced Search
Search for any foods that meet your specific criteria. This new search tool is invaluable for meeting nutrient targets when designing meal plans for your clients !
For example:
Find vegetables with greater than 6mg of Vitamin C
Find vegan foods under 400kcal with more than 15g of protein.
Generate a list of all foods from highest to lowest (or vice versa) concentration of each nutrient.
Recipe Reformulation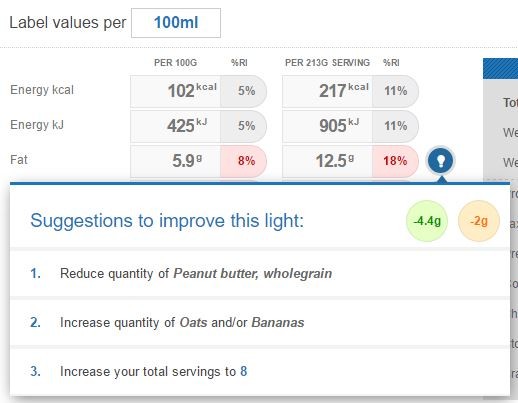 Nutitics Recipe Reformulation Tools
This new tool provides suggestions on how to modify your ingredients to achieve a more favorable front of pack 'traffic light' in accordance with EU legislation. Recipe reformulation is a complex business and we think this new tool will make it a lot easier. We have big plans for this feature so watch this space in the coming months!
This feature is only available on premium plans. Upgrade Today!
Automatic Nutrition Claims

Nutritics Automatic Nutrition Claims
Our new nutrition claims feature scans our recipe as you create it, and provides a simple list of all nutrition claims that the complex regulations will allow on your recipe. All you need to do is click the ones you like.
This feature is only available on premium plans. Upgrade Today!
Even More Databases
We are committed to having the largest and most accurate food databases on the market. We have added even more international databases to this update.
The following food databases have been added
CA15 - Canadian Nutrient File (CNF) 2010
NO16 - Norwegian Food Composition Database 2016
NZ14 - Food Safety Australia & New Zealand Report 2014
DE14 - German Nutrient Database BLS 3.02
CH15 - Swiss Food Composition Database v5.2
SE16 - Swedish Food Composition Database 2016
Recipe Creator Updates
QUID - You can now edit the QUID by editing the ingredients section of the recipe to make it look neater. QUIDS now include sub-recipe QUIDs.
You can now create custom fields on ingredients so you can tag them with product codes or other useful info without it appearing in the QUID.
Ever get confused by weight change factors? Now we have a database of weight change factors for you to pick from.
Ability to add barcodes to recipe ingredients
We have added sub allergens to our database e.g. type of nuts and wheat
Cooking time, prep time and brand have been added to the modifications box
• QA Publishing Panel- New Panel for food manufacturers with checklists and warnings to ensure you have thought of everything before publishing your recipe!
What's your favourite unit?
Every country seems to have their own way of describing weight, quantity and height. Even if your country officially uses metric units for road signs etc, you may find you only know your height in feet or your weight in pounds. It can be tricky to always have to enter things in a specific unit so we've tried to teach Nutritics them all. You can now enter quantities in any unit. Just type 2lb 8oz or 2.2 gallons or 1.1 litre or 5ft 4 or or any other unit you can think of!
Other Updates
As always, we've have made lots of design & functionality updates to make the software interface even easier to use.
We now support International Food Codes throughout the software which makes it very easy to reference or look up a specific food.
Collapse sections in the recipe creator tool to make operation easier
Conversion calculator for weight & height in the client profile is now automatic
Right click on any tab for quick access to the last 5 open items
Rename columns on diet logs instead of meal 1 meal 2 etc
Create custom fields for columns in diet logs (Research Edition Only)
Greatly increased speed & accuracy during food searches, report generation and general use.
Tonnes of tweaks and bug fixes.
API upgrade
Nutritics API has been upgraded to v1.1. Our API allows you to integrate Nutritics into any other web-enabled technology to find foods and analyse recipes from within your own app or software platform. For more information, see our
API integrations
page.