The English Government has announced that large hospitality businesses will be required to display calorie labelling information on menus and food labels from April 2022.
Regulations have been laid in Parliament which will mandate all businesses in the out of home sector (cafes, restaurants, takeaways) with more than 250 employees in England to list calorie counts on non-prepacked food and soft drinks.
It will be required that all calorie information be displayed at "the point of choice" for the customer, such as physical and online menus and delivery platforms.
The measures, which form part of the government's wider strategy to tackle obesity, will empower people to make more informed, healthier choices outside of the home. Public Health minister Jo Churchill said the rules would "make it as easy as possible for people to make healthier food choices".
The Nutritics Digital Menu display is intended for use by food businesses, providing a front-of-house view where your customers can browse your menu and make better informed meal choices very efficiently without staff involvement. With Nutritics digital menu, you can choose the information to be displayed on paper and digital menus e.g. menu item prices, calories and allergen information, an ingredient list and front and back of pack nutrition information.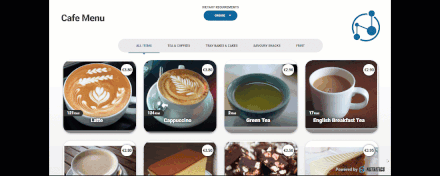 The digital menu is updated in real time as you make changes to your recipes, thus avoiding versioning issues associated with printed menus and allergen lists. They can be displayed on your own on-site tablets or TV's, or they can be accessed on the customers own smartphone by scanning a unique QR code. Customers can filter menus by their dietary requirements and menus can be translated to different languages.