Customising a Diet Log Report
11th Jan 2018
You can add quick enhancements and provide additional information on diet log reports using the fly-out button at the end of the nutrient row.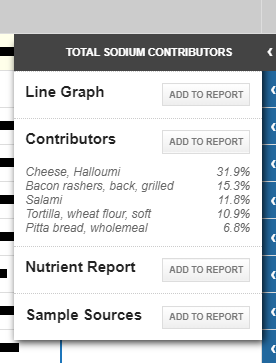 Line Graph:
Draws a simple line graph to illustrate intake over time:

If activities are logged then these are also plotted on the graph:

Contributors:
Adds a ranked breakdown of the contributing foods to a particular nutrient:

Nutrient Report:
Adds background information about the nutrient. Text reports are sensitive to nutrient intake in relation to recommended intake. The text report also gives details of the implications of inadequate/excess intake and provides a list of foods which are rich sources of that particular nutrient. Text reports may be switched off upon request (eg. University student licences):

Sample Sources:
Adds a list of the top 10-12 food sources for a particular nutrient, with serving size gram weight and 'friendly' measure.