Label elements are the customisable sections of your label and include graphics and text.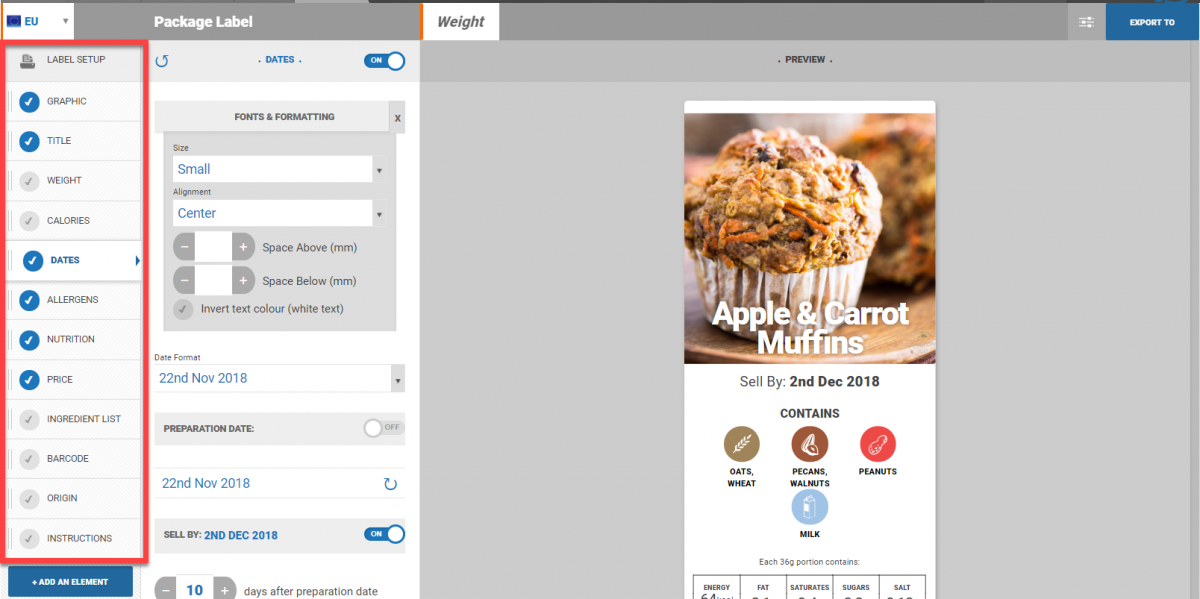 Elements can be rearranged simply by dragging and dropping (Internet Explorer does not support this functionality).
The page set up element allows you to adjust your label dimensions and margins, print multiple labels per sheet (e.g. A4 label printing), or print in high contrast / low resolution mode (black only).
Graphic: Add a graphic or your logo to the labels from this element. It is also used for uploading a label image for pre-printed label rolls that you print black ink onto. Click 'Use as a template' to ensure that the uploaded label template won't be printed.
Background templates should be the exact same aspect ratio as the finished cut label. In cases where the cut label is an irregular shape, the template should contain the entire finished cut label exactly. The image resolution is not important as it will not be printed but we recommend at least 72 pixels per inch for reasonable quality in the editor.
Also please note that the label maker does not natively support bleed, or PDF or EPS files - they must be raster graphics - png/bmp/jpg/gif/tif.
Title: Your recipe title and description will be prepopulated here. Changing the text here will not change your recipe details
Weight: Specify if you would like to display weight of product on your label. Remember to choose a portion size option at the top right of this panel
Calories: Toggle this element on to display calories on your label. Remember to choose a portion size option at the top right of this panel
Dates: Set the date format and preparation date. Clicking the small circular arrow on the preparation date box will input today's date in the box. You can then specify the number of day's durability for 'sell by', 'best before' and 'use by' for your product. Next time you print this label, simply update the 'prepared on' date, and these dates will be updated automatically
Allergens: Toggle on to display allergens as text or icons on your label
Nutrition: Choose from a range of built in nutrition panel designs for display on your label
Claims: This panel display the nutrition and health claims that may be applied to your food label
QUID: This is an editable text version of your recipes Ingredient list and quantities / QUID. Adjusting the text here does not change the QUID on the recipe development workspace
Barcode: Choose your barcode type and input the numeric values to generate a printable barcode for your product
Origin: This element will generate a country of origin stamp for your product, useful for meat and dairy based products in particular.
Instructions: This element is pre-populated with the instructions from your recipe workspace. Editing the text here does not affect the instructions in the main recipe workspace. Use it to give the consumer additional information, such as cooking or storage instructions for the product.
The 'add an element' option allows you to add any other custom text or image to your label