Creating a Food Label
31st Aug 2018
Nutritics label maker can be accessed from any recipe by clicking Export > Label Maker. This enables the production of EU, NLEA, FSANZ complaint food labels and Nutrition Information Panels (NIP). If the label maker is not available on your account, it is available as an add-on from Menu > Add Features
Label Templates:
Clicking Export > Label Maker, will open the pre-built label templates which you can apply to your label instantly. Alternatively, you can build a custom label by clicking the option to 'Start from Scratch' at the top right of the panel. Once you have created a label, this can be saved as a template to be applied to your other recipes from the templates / settings button (grey sliders) to the left of the export button.
The label maker is set up in a series of side-by-side panels, similar to the main Nutritics interface.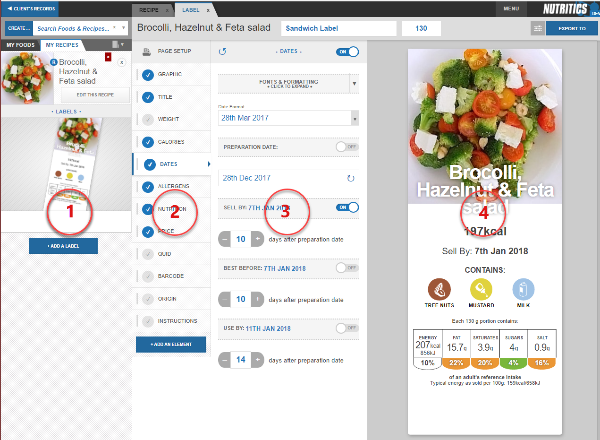 Panel 1: Label List (for this recipe)
Panel 2: Label Elements
Panel 3: Editing Panel
Panel 4: Label Preview
To modify the label, simply click on one of the elements from the list in panel 2, to expand that section in the adjacent editing panel. Click the 'on' toggle to activate this content to start editing. Panel 4 on the right shows a live preview of the final label design.