Nutritics Professional uses the latest web technologies to deliver a cutting edge and highly intuitive user interface. While traditional Nutrition analysis programmes come packaged with a hefty user manual, Nutritics' unique interface makes operation familiar and obvious.
The Nutritics food Database is at the heart of our business and it is manually maintained by nutrition experts. Our data is accurate and vast with over 6000 UK / Irish foods including a large range of commercial and supermarket brands, nutritional supplements, clinical feeds and food additives. Our database is constantly being tweaked and added to. If the food you need isn't in our database, use the request food button and we will add it for you.
Instantaneous multi-field food search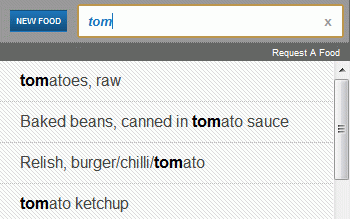 One of the most time consuming parts of creating a diet log is finding foods. Our smart search algorithm works instantaneously while you type to deliver results fast. Our search considers food name, description, keywords, category and nutrient composition before returning results to you and results are ordered based on how popular they are. This means less time creating diet logs and more time examining dietary reports.
Smart portion estimates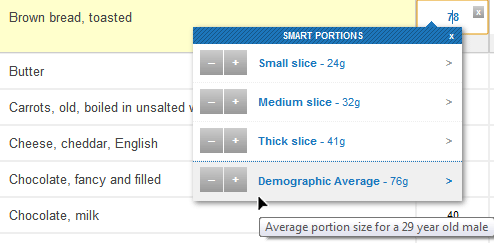 Nutritics not only maintains handy lists of the most common portion sizes for each food, it also suggests a "demographic average" for most foods which estimates the portion your client ate based on the average portion size of that food eaten by someone of that age and gender. This makes diet log analysis quick to input without sacrificing accuracy. You wont find it anywhere else!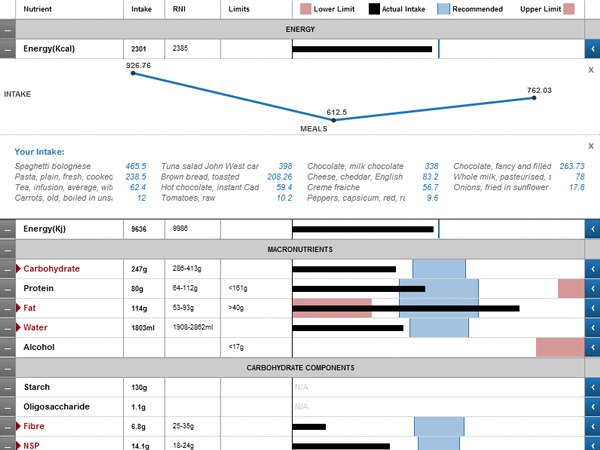 Our dynamic reports are built using a simple and innovative interface that delivers exactly what you need with just a few mouse clicks. They have been specifically designed for readability and specially optimised for printing. Even on black and white printers, Nutritics Professional Dietary Analysis delivers clear and concise reports graphs that are intuitively understood by clients.
Recipe analysis and menu analysis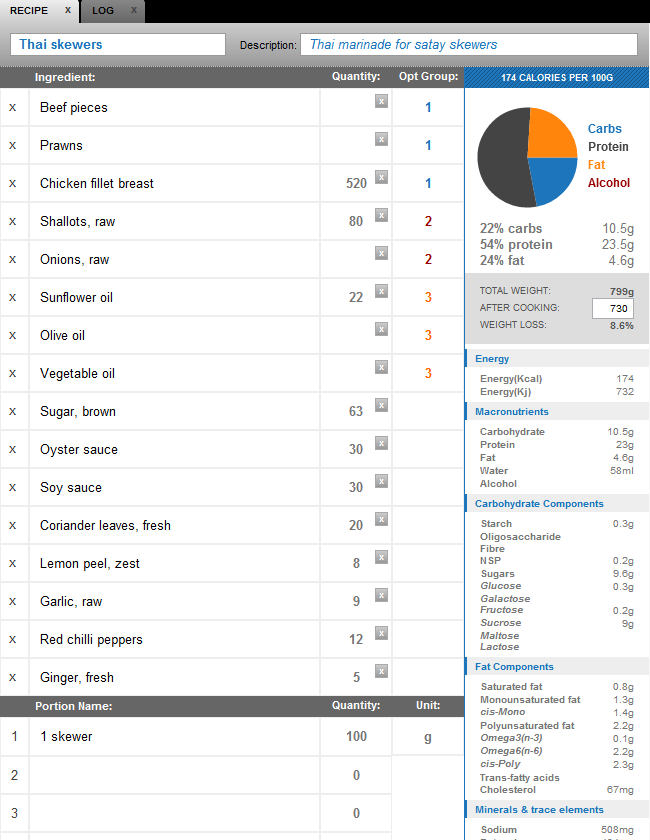 Our recipe creator is beautifully presented and easy to use. Analyse the nutritional content of your recipes and save them for quick retrieval later. You can use the recipe creator to perform analysis of restaurant menus, which adds another dimension to your business. Did you know that pending legislation in Ireland will soon require calories to be displayed on food outlets menus?
Meal Plan Creator: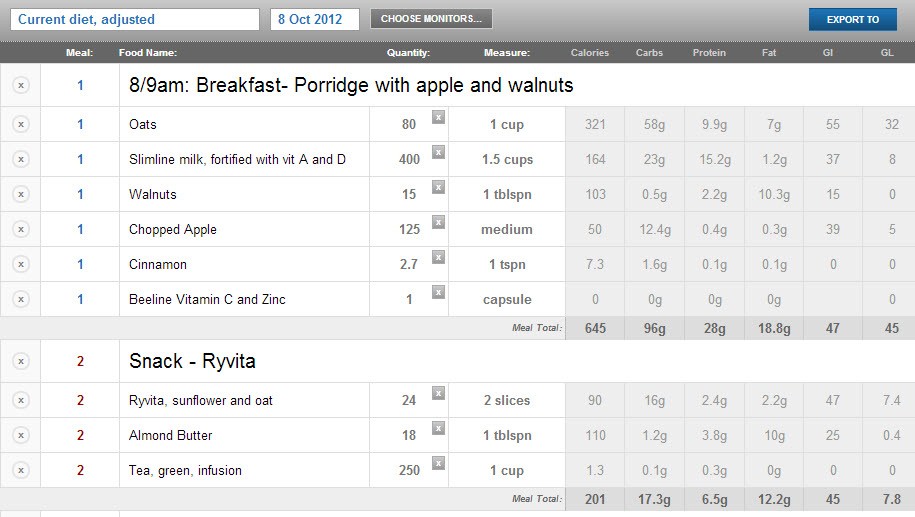 Meal plan creator
The meal plan creator enables you production of high quality sample meals and menus for your clients. The nutrient monitor function makes it easy to tailor a meal plan for a specific dietary requirment. Optional monitors include any of our nutrients, and glycemic index and glycemic load. These are calculated and totalled on your meals as you make them!
Universal, Worldwide Access
Nutritics is a small program that can be downloaded from any windows computer with a web connection. Your clients and logs are maintained across all computers so you can easily move from a laptop to an office PC to your home PC without having to mess with usb keys or synchronisation programs.
Security & Automatic Backup
All data on Nutritics is encrypted on your computer with 256bit bank-level security, before it is transmitted to our secure data centre in Manchester, UK. Your data is backed up each morning on-site, and each month off-site, bringing your business in compliance with Data Protection Act 1998. This means your data is safe from hard drive failures, lost, stolen or damaged laptops, blackouts, fires, floods, etc.
Silent, regular updates
Nutritics is built using innovative web technologies that can update automatically in the background. Nutrition technology is a fast-changing industry so we update on average every two weeks to deliver you the newest features and recommendations as soon as they become available. You will not be nagged to update when you open the program - all updates happen silently without disturbing your work.
> See how regularly we add features
High speed customer support
We believe in providing quality, hassle free high speed support for our customers. As such, we do not provide old fashioned phone support with complex voice menus and long hold queues. Our email support staff normally reply within the hour, with straight talking, simple information that is directly relevant to your query.